An Intrinsic Love for The Craft
Capturing beauty in everyone
I've always had a love for hair and makeup, since I was a little girl I envisioned having my own salon. The way I could make my family and friends feel always felt a little bit like magic. And having this artistic freedom I knew this was my career path. So, after high school I went through beauty college and became a licensed cosmetologist. I now run my own salon and work with the most amazing women who love this industry as much as I do.
Whether it's just time for a change, or a wedding, new baby, or other event you'd like to be pampered and polished we can offer anything from a simple blow out, color and/or haircut, updo, makeup, or even just a complimentary consultation I'd be delighted to apply that magical touch up to your already amazing self. And if I am unavailable, as I already mentioned, I have fantastic stylists I can refer you to.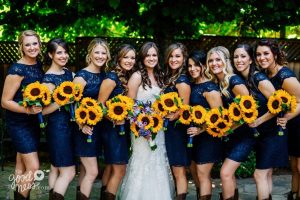 Wedding and Event Hair and Makeup
One Artistic Eye Deserves Another
Over the years, my partner, Desirae and I have developed a good feel for creating exceptional wedding and event hair and makeup. Whether you are looking for a very a detailed look with contouring or a sultry eye and hair with a waterfall or other braids or the fairytale look with lots of curls and flowers to a natural lightly polished makeup and a classic french twist or bun updo style we can offer a variety of styles to capture your most beautiful self. We also find ways to incorporate your artistic vision into your hair and makeup.
We've worked with dozens of brides over the years to collect a portfolio of a wide range of skin and hair types. Please take a look and if you like what you see we would love to book you for a trial run where you get a sneak peek of your wedding day perfection.
*Hairgicians
People who create magic for clients without a wand.
Let's face it – not everyone has beautiful silver hair, most of us need a 4-6 week root touch up. I may not be able to reverse time but I am always doing my best to keep my clients feeling that way. I also love the artistic freedom with clients who I see every few months for a balayage, ombre, color melt, etc… I have always continued my education to make sure I am current with the trends and how to achieve them.
For over a decade I've worked with so many clients in so many different ways, I guarantee I can offer my best professional care and advice and will always try capture the magic in making someone feel amazing.